Thank you to all who have signed up on our FREE Webinar. Please mark you calendar and be there on 18th Oct 2018 9pm (Manila Time) . You will receive the Webinar link on your email, please don't forget to check your spam folder.
NEWS: Migrants banned from Sydney, Melbourne and south-east Queensland.
Occupation: Surveyor (ANZSCO 232212)
07.01.12 - IELTS - British Council - L8.5 R7.0 W9.0 S7.5 OBS 8.0
07.11.13 - Sent Skills Assessment Documents via Speedpost to
Surveying and Spatial Sciences Institute
04.12.13 - Positive Skills Assessment (via Singpost)
10.12.13 - EOI submitted (60pts)
15.12.13 - Invited for 189 (Skilled Independent) Visa
25.12.13 - Lodged 189 Visa
06.01.14 - Sent NBI Application to Ms.Sobida (via Singpost)
16.01.14 - Applied for Singapore PCC and Booked Medicals
21.01.14 - Uploaded NBI Clearance
30.01.14 - Medical/Radiology Tests at Point Medical/Radlink
02.02.14 - CO Allocated Adelaide GSM Team 07
06.02.14 - Collected SG PCC and uploaded
14.02.14 - Point Medical -Medicals completed
15.05.14 - Visa Grant - Change of Team (Adelaide Team 6) and
CO (initials MR)
27.12.15 - Initial Entry

"The supreme art of war is to subdue the enemy without fighting."



0

LOL
0

Awesome
0

Informative
0

Artistic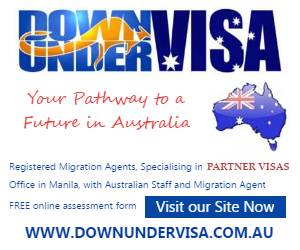 Blogs at PinoyAu - Source of Useful Tips and Guides for Pinoys in Australia
New SimplyStall Mobile App!

Hi everyone!
I'm very happy to announce PinoyAu Forum's new app called "SimplyStall" . It's a new Gumtree like service for Pinoys in Australia but in a way better!
So if you have any items just collecting dust? Why not convert it to cash?
If you are selling new items or products or wish to give an item away for free then this might be a good avenue for you.
This project is a new initiative to unify and have a common portal for Pinoys in Australia to sell and share stuffs.
It's now available on Google Play and Apple App Store.
Please do try it out. I'd appreciate if you can help me spread the good news and start selling your old or new stuffs.
(click X on the upper right corner or click outside this box to close)