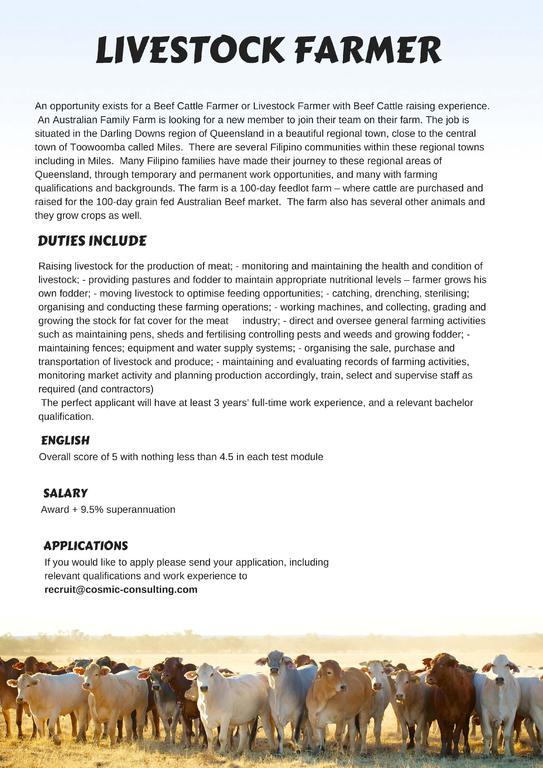 Hi Everyone, Posting for a friend who is looking for someone with Veterinary qualification and with at least 5 years' experience in livestock farming. This is an Employer sponsored visa (457). Please see the details below about the job.
The company produces 100 day grain fed beef cattle for the beef industry. So duties would include - raising livestock for the production of meat; monitoring and maintaining the health and condition of livestock; providing pastures and fodder to maintain appropriate nutritional levels – farmer grows his own fodder; moving livestock to optimise feeding opportunities; catching, drenching, sterilising; organising and conducting these farming operations; working machines, and collecting, grading and growing the stock for fat cover for the meat industry; direct and oversee general farming activities such as maintaining pens, sheds and fertilising controlling pests and weeds and growing fodder; maintaining fences; equipment and water supply systems; Organising the sale, purchase and transportation of livestock and produce; maintaining and evaluating records of farming activities, monitoring market activity and planning production accordingly, train, select and supervise staff as required (and contractors)
They candidates will need at least 5 years' work experience, and must be no older than 40 years of age. That is the limit.
Australia has just changed its laws now making it that workers must not have turned 45 years of age at the time of application.
This upper age limit of 40 allows the successful applicant - 5 years to pursue a more permanent pathway.
Qualifications and skills
Relevant Bachelor degree or higher qualifications
Plus at least 5 years' experience full-time work.
English – overall score of 5 with nothing less than 4.5
Please send your resume or inquiry directly to
[email protected]
.
Thank you.
Regards,
Admin