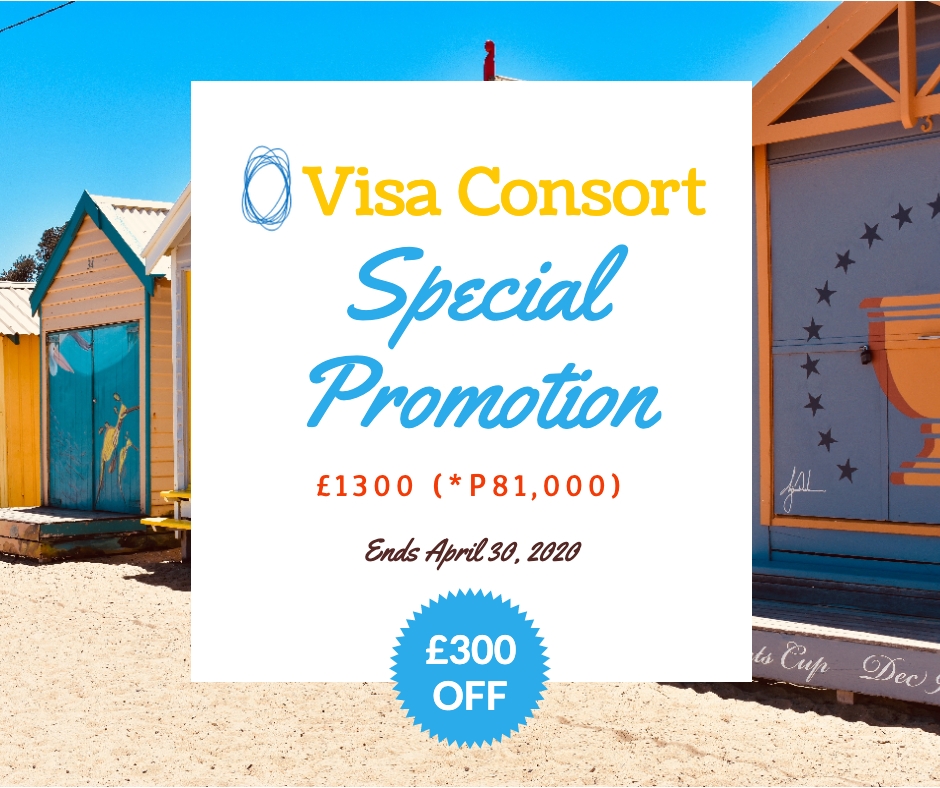 Hi Everyone,
Visa Consort in partnership with Pinoy AU, would like to offer everyone a very special promotion on their professional migration service.
With the current affordable rate that Visa Consort is offering, they are reducing their professional fee further to as low as £1300 or roughly P81,0000 for a limited time period. To all who have done their homework (checking other's rate), you know how affordable their fee is.
If you want to find out more about Visa Consort, you may visit their website at https://www.visaconsort.com/ or validate their legitimacy at MARA.gov.au, Just key in their MARA number 1171933 or click here
This offer will end on 30 April 2020, so please don't let this opportunity go to waste!

Interested in this offer? You may reach them at https://www.visaconsort.com/contact-us
2010-06 : Lurker at philippines.com.au (previously the #1 Pinoy Australian Forum)
2010-06 : Started researching on Visa 175 - Target 120pts
2011-08 : Started prev employer document gathering for ACS skill assessment (0/4)
2010-12 : Philippines.com.au went offline and created www.pinoyau.info
2011-03 : 1st child born - AU dream halted
2014-03 : ACS document - 1/5 emp ref completed
2015-01: Promoted at work - AU dream halted
2015-11: ACS document - 1/6 emp ref completed
2016-09: 2nd child born - AU dream halted
2018-09: ACS document - 6/8 emp ref completed
2018-09: Revised all employment references and affidavit from scratch
2019-03: Completed Revised 8/8 emp ref
2019-03: PTE Exam - L59,R75,S62,W64 (no preparation)
2019-07: Favorable Skills Assessment result for Software Eng
2019-11: PTE Exam - L70,R68,S79,W68 (competent only)
2020-02: PTE Exam - L79,R79,S86,W76 (grr lack 3pts on Writing)
2020-03: PTE Exam - L85,R75,S87,W86 (Mar 4 - grr nag increase L, S and W but bumaba 4pts si R!!!!!)
2020-03 PTE Exam - L81 R79 S90 W81 (Mar 9 - Salamat Lord!!!!)