FYI for Anyone Who's going to get Report Marriage and Renewal of Philippine Passport in Consulate, this might help you:
They only accept CASH Only.
They have copier machine, prepare coins.
They open 9am to 1pm only for application and 2:30 to 4:30pm for collection of passport only.
Once lift is open turn to your LEFT for Report Marriage. Report Marriage is for Filipino or Filipina who got married here in Australia. You have do to this first before renewal of passport.
Once done with Report Marriage, go to the other side for Renewal of passport. Once the staff done checking your passport renewal you will be asked to pay at the cashier (balik sa unang rm where u gave your report marriage application). Report Marriage fee is $45 and renewal of passport is $108.
Once paid they will ask you to go back to renewal of passport section and hand over your papers to the staff. The staff will call your name for picture taking.
Once done with the picture they will give you instruction on how to get your passport pick up or via mail.
Incase you want it PICK UP: at least 6 weeks from date of application check the website for your name. Bring old passport and original receipt
For MAIL: Send the following to Consulate (or bring this already with you) Old passport, Original Receipt, Self addressed envelope - preferably Express Post envelope with signature on delivery and Letter requesting that passport be sent by mail/post
For Requirements:
1. Duly accomplished form for Report Marriage and Renewal of Passport (check website)
2. 5 copies of each. 4 copies will go to Report Marriage and 1 copy will go to Renewal of Passport:
Passport of wife and husband
Marriage Cert
visa copy
birth cert
bring all original copies of passport, marriage and birth cert incase they will ask you. Dont forget to bring your husband's passport too.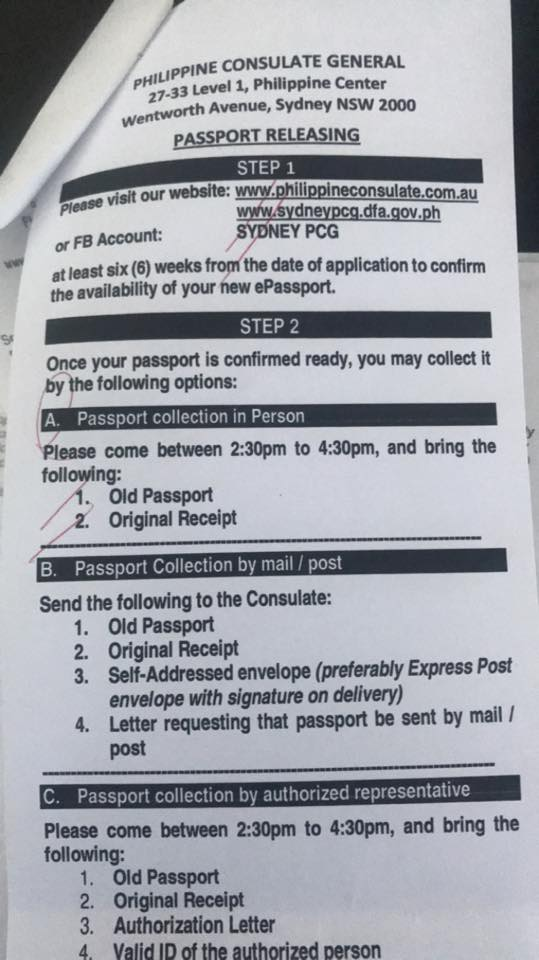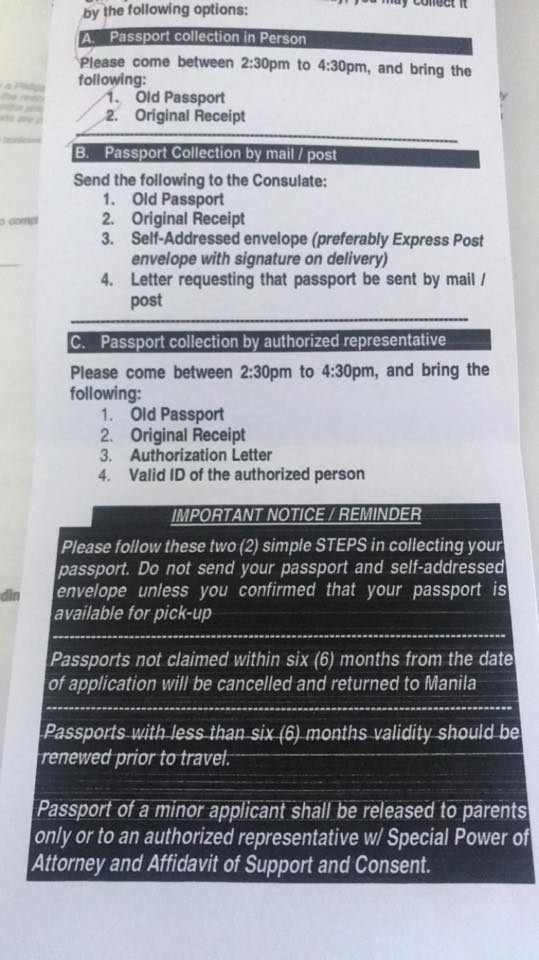 Credit to our friend Ms Cath
2010-06 : Lurker at philippines.com.au (previously the #1 Pinoy Australian Forum)
2010-06 : Started researching on Visa 175 - Target 120pts
2011-08 : Started prev employer document gathering for ACS skill assessment (0/4)
2010-12 : Philippines.com.au went offline and created www.pinoyau.info
2011-03 : 1st child born - AU dream halted
2014-03 : ACS document - 1/5 emp ref completed
2015-01: Promoted at work - AU dream halted
2015-11: ACS document - 1/6 emp ref completed
2016-09: 2nd child born - AU dream halted
2018-09: ACS document - 6/8 emp ref completed
2018-09: Revised all employment references and affidavit from scratch
2019-03: Completed Revised 8/8 emp ref
2019-03: PTE Exam - L59,R75,S62,W64 (no preparation)
2019-07: Favorable Skills Assessment result for Software Eng
2019-11: PTE Exam - L70,R68,S79,W68 (competent only)
2020-02: PTE Exam - L79,R79,S86,W76 (grr lack 3pts on Writing)
2020-03: PTE Exam - L85,R75,S87,W86 (Mar 4 - grr nag increase L, S and W but bumaba 4pts si R!!!!!)
2020-03 PTE Exam - L81 R79 S90 W81 (Mar 9 - Salamat Lord!!!!)