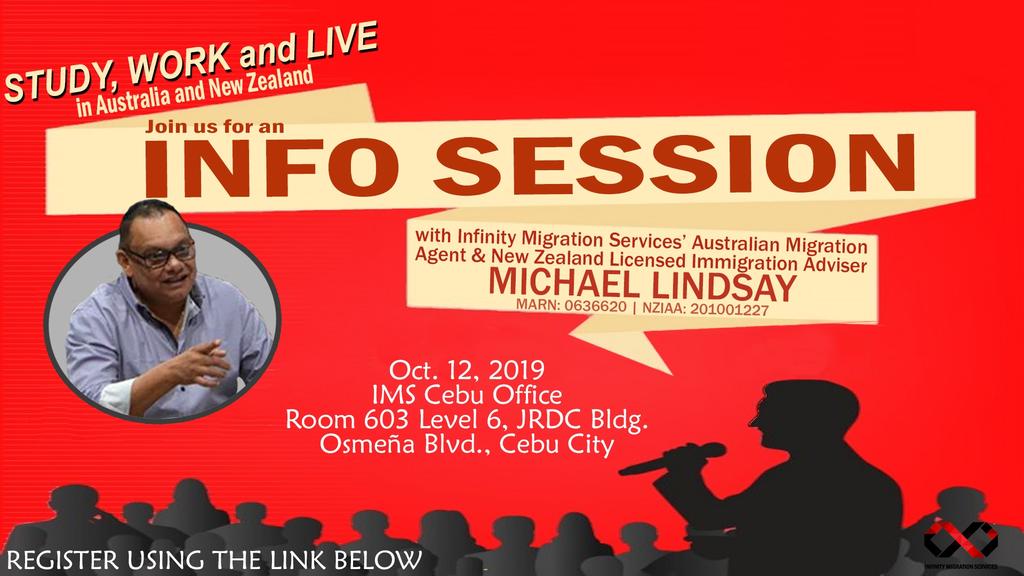 Hi to all our Friend in Cebu,
Our Education partner has graciously offered to conduct a FREE Long Quality Seminar on Study in Australia and New Zealand. It will be conducted by one of the respected Immigration Lawyer and CEO of Infinity Migration Services. And to highlight, the speaker is a Registered Migration Agent in Australia as well as Immigration Adviser in New Zealand.
The FREE Seminar event will take place
On: 12 October 2019 Saturday
At : 6TH FLOOR Rm.603 JRDC Bldg. Osmena Blvd. Cebu City
From: 10am to 5pm
Some of the topics will be shared are Work Rights, Process, Qualification, Visa Study in Australia.
They will be offering FREE consultation or advice so to those who are interested kindly bring an update copy of your resume.
Don't miss this exciting event and please share to your friends or families whom you think might benefit.
Kindly register here to secure a seat.
2010-06 : Lurker at philippines.com.au (previously the #1 Pinoy Australian Forum)
2010-06 : Started researching on Visa 175 - Target 120pts
2011-08 : Started prev employer document gathering for ACS skill assessment (0/4)
2010-12 : Philippines.com.au went offline and created www.pinoyau.info
2011-03 : 1st child born - AU dream halted
2014-03 : ACS document - 1/5 emp ref completed
2015-01: Promoted at work - AU dream halted
2015-11: ACS document - 1/6 emp ref completed
2016-09: 2nd child born - AU dream halted
2018-09: ACS document - 6/8 emp ref completed
2018-09: Revised all employment references and affidavit from scratch
2019-03: Completed Revised 8/8 emp ref
2019-03: PTE Exam - L59,R75,S62,W64 (no preparation)
2019-07: Favorable Skills Assessment result for Software Eng
2019-11: PTE Exam - L70,R68,S79,W68 (competent only)
2020-02: PTE Exam - L79,R79,S86,W76 (grr lack 3pts on Writing)
2020-03: PTE Exam - L85,R75,S87,W86 (Mar 4 - grr nag increase L, S and W but bumaba 4pts si R!!!!!)
2020-03 PTE Exam - L81 R79 S90 W81 (Mar 9 - Salamat Lord!!!!)