Hi to All, Please take extra care guys wherever you are, take care of your love ones too. Especially to our friends in Singapore, more being confirmed, and are through community spread, no longer from people who travelled from China. Observe proper hygiene at all times and also monitor our little ones as they often put their hands in their mouth.
Welcome to the New and Upgraded Pinoy AU Forum! We have only updated a couple of times since 2010. Apology it took some time. Some of the features are still being migrated. Please feel free to report
here
or email me at
[email protected]
if you will encounter any issues. Thank you.
Family Express *$2.50 Transfer Fee on every transaction for 1-month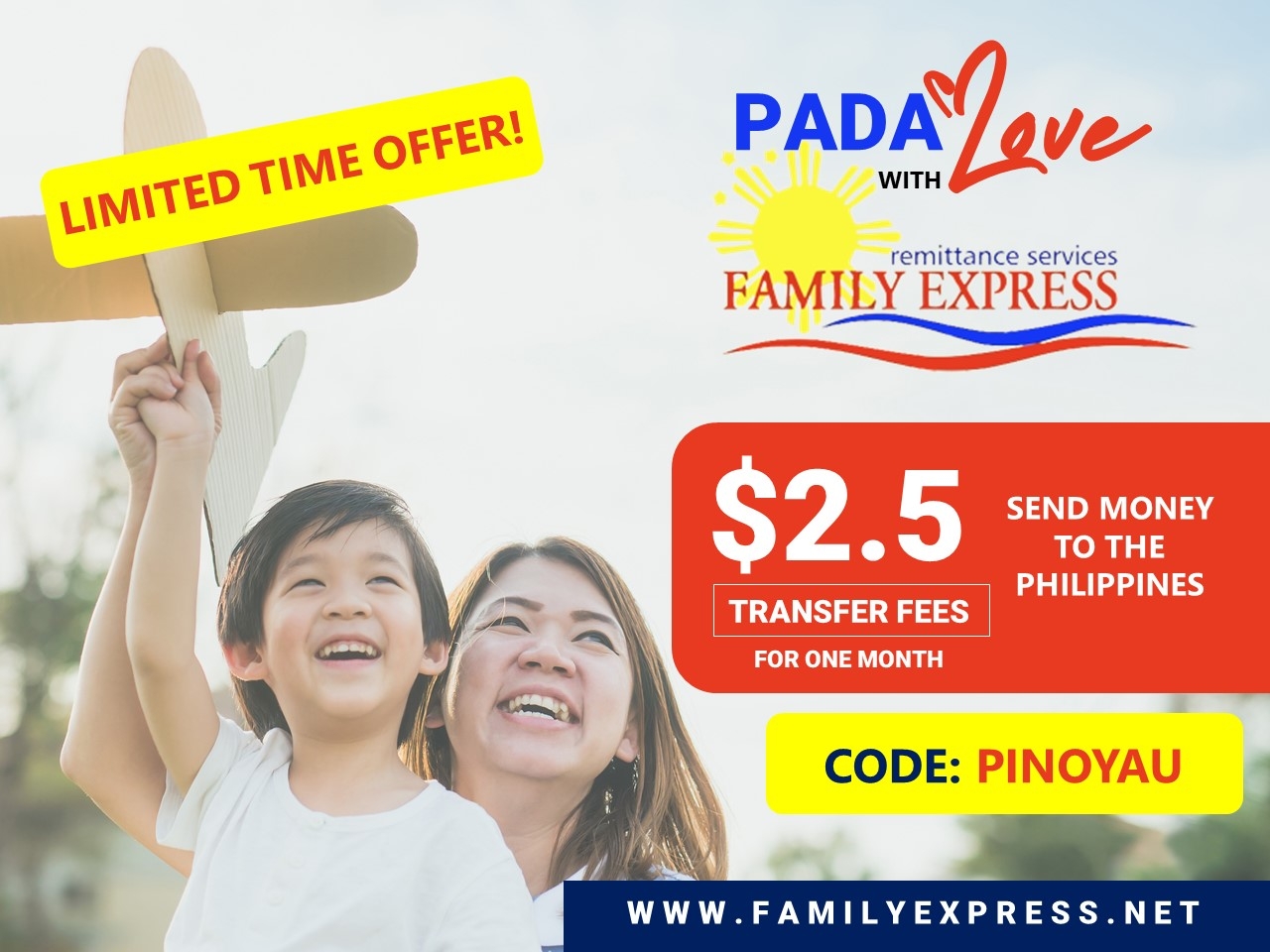 Hi to all PinoyAU pips.
Great news! Our latest partner Family Express has graciously given us a special deal which will allows EVERYONE (existing or new users) to enjoy a special discounted transfer fee on every transaction for one whole month! This is exclusive only to pinoyau members.
How to send money to PH?
You may either use their website or mobile app by following these steps:
Visit https://familyexpress.net/ or download "FamEx Remit" from Apple App Store or Google Play.
Sign up by providing contact information.
Create a new recipient and select their preferred collection method.
Select your transaction amount and use "PINOYAU" as your promo code.
Complete transaction using PayID or PoliPayment.
If you need help or you need clarifications, you may reach contact their excellent customer support at
(02)9159-8788 / 1800-326-397 (Toll-free) or email them at [email protected]
2010-06 : Lurker at philippines.com.au (previously the #1 Pinoy Australian Forum)
2010-06 : Started researching on Visa 175 - Target 120pts
2011-08 : Started prev employer document gathering for ACS skill assessment (0/4)
2010-12 : Philippines.com.au went offline and created www.pinoyau.info
2011-03 : 1st child born - AU dream halted
2014-03 : ACS document - 1/5 emp ref completed
2015-01: Promoted at work - AU dream halted
2015-11: ACS document - 1/6 emp ref completed
2016-09: 2nd child born - AU dream halted
2018-09: ACS document - 6/8 emp ref completed
2018-09: Revised all employment references and affidavit from scratch
2019-03: Completed Revised 8/8 emp ref
2019-03: PTE Exam - L59,R75,S62,W64 (no preparation)
2019-07: Favorable Skills Assessment result for Software Eng
2019-11: PTE Exam - L70,R68,S79,W68 (competent only)
2020-02: PTE Exam - L79,R79,S86,W76 (grr lack 3pts on Writing)
2020-03: PTE Exam - L85,R75,S87,W86 (Mar 4 - grr nag increase L, S and W but bumaba 4pts si R!!!!!)
2020-03 PTE Exam - L81 R79 S90 W81 (Mar 9 - Salamat Lord!!!!)