Victoria to implement shutdown of all non-essential activity across the state.
AS OF 2020-03-21
Restaurants, pubs, gyms, entertainment venues are among businesses expected to close across New South Wales and Victoria over the next two days.
In Victoria, school holidays will be brought forward to enable schools to close from Tuesday, while NSW is yet to announce whether schools will remain open beyond Monday.
Victorian Premier Daniel Andrews said he would also push for a lockdown of non-essential businesses and for schools across the state to close from Tuesday.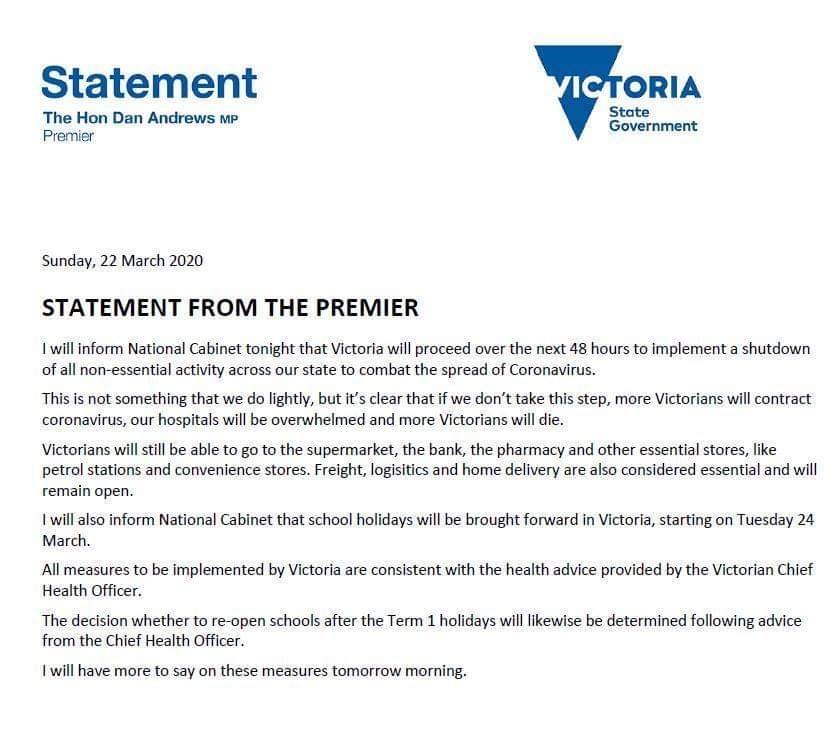 2010-06 : Lurker at philippines.com.au (previously the #1 Pinoy Australian Forum)
2010-06 : Started researching on Visa 175 - Target 120pts
2011-08 : Started prev employer document gathering for ACS skill assessment (0/4)
2010-12 : Philippines.com.au went offline and created www.pinoyau.info
2011-03 : 1st child born - AU dream halted
2014-03 : ACS document - 1/5 emp ref completed
2015-01: Promoted at work - AU dream halted
2015-11: ACS document - 1/6 emp ref completed
2016-09: 2nd child born - AU dream halted
2018-09: ACS document - 6/8 emp ref completed
2018-09: Revised all employment references and affidavit from scratch
2019-03: Completed Revised 8/8 emp ref
2019-03: PTE Exam - L59,R75,S62,W64 (no preparation)
2019-07: Favorable Skills Assessment result for Software Eng
2019-11: PTE Exam - L70,R68,S79,W68 (competent only)
2020-02: PTE Exam - L79,R79,S86,W76 (grr lack 3pts on Writing)
2020-03: PTE Exam - L85,R75,S87,W86 (Mar 4 - grr nag increase L, S and W but bumaba 4pts si R!!!!!)
2020-03 PTE Exam - L81 R79 S90 W81 (Mar 9 - Salamat Lord!!!!)