Sorry for the down-time kanina, I've sorted it out, everything should be back to normal.

Hi All, I hope everyone is well and also your family. As a way to extend help during this time of crisis, Visa Consort in partnership with Pinoy AU, would like to offer further reduced rate (for a limited period) to anyone who would wish to engage a migration agent service. If you have conducted your research, you know that their rate is one of the most affordable in the market. Please click
here
for more details about the offering.
Welcome to the New and Upgraded Pinoy AU Forum! We have only updated a couple of times since 2010. Apology it took some time. Some of the features are still being migrated. Please feel free to report
here
or email me at
[email protected]
if you will encounter any issues. Thank you.
Telstra is giving consumer and small business customers extra data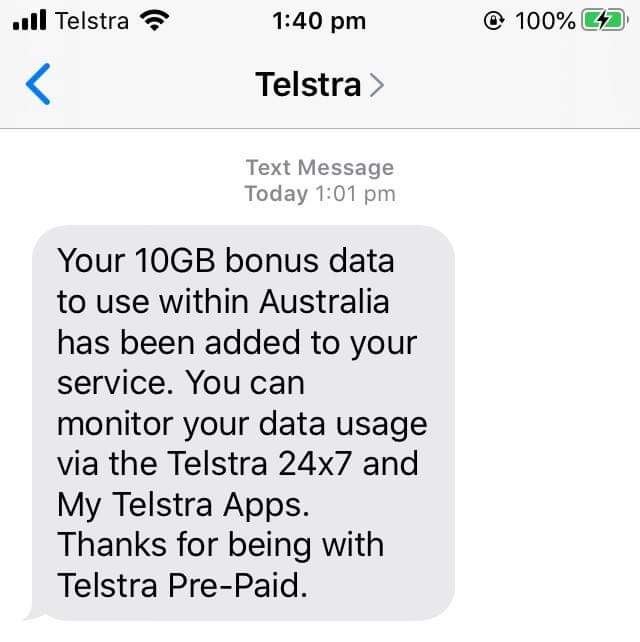 Telstra is giving consumer and small business customers extra data to support working and studying from home or self-isolating, as part of the national response to COVID-19.
Post-Paid customers (both mobile and mobile broadband) can get an extra 25GB of data on their plan to use in Australia within 30 days.
Pre-Paid customers with an active recharge of $40+ can get 10GB of extra data to use in Australia within 28-30 days (depending on your plan). The data won't rollover.
Register your details below to get extra data. Telstra will send you an SMS to confirm once it's been applied to your account - it should take about 48 hours. It will be available within 48 hours and you'll be notified by SMS once it's been applied. Ineligible phone numbers won't receive a notification.
https://say.telstra.com.au/customer/general/forms/COVID-19?adobe_mc=TS=1584532862|MCMID=43142740011790039706160816285956649759|MCORGID=98DC73AE52E13F1E0A490D4C%40AdobeOrg
2010-06 : Lurker at philippines.com.au (previously the #1 Pinoy Australian Forum)
2010-06 : Started researching on Visa 175 - Target 120pts
2011-08 : Started prev employer document gathering for ACS skill assessment (0/4)
2010-12 : Philippines.com.au went offline and created www.pinoyau.info
2011-03 : 1st child born - AU dream halted
2014-03 : ACS document - 1/5 emp ref completed
2015-01: Promoted at work - AU dream halted
2015-11: ACS document - 1/6 emp ref completed
2016-09: 2nd child born - AU dream halted
2018-09: ACS document - 6/8 emp ref completed
2018-09: Revised all employment references and affidavit from scratch
2019-03: Completed Revised 8/8 emp ref
2019-03: PTE Exam - L59,R75,S62,W64 (no preparation)
2019-07: Favorable Skills Assessment result for Software Eng
2019-11: PTE Exam - L70,R68,S79,W68 (competent only)
2020-02: PTE Exam - L79,R79,S86,W76 (grr lack 3pts on Writing)
2020-03: PTE Exam - L85,R75,S87,W86 (Mar 4 - grr nag increase L, S and W but bumaba 4pts si R!!!!!)
2020-03 PTE Exam - L81 R79 S90 W81 (Mar 9 - Salamat Lord!!!!)