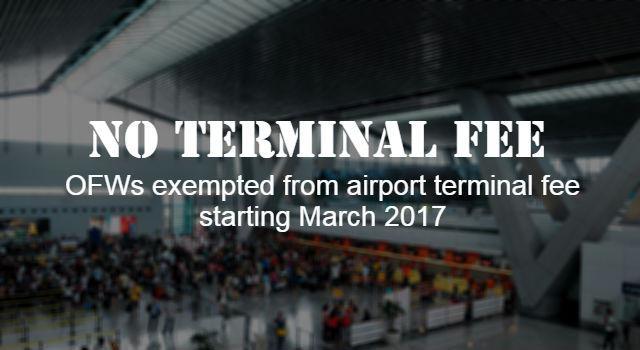 Starting March 2017, OFWs no longer have to pay the P550 airport terminal fee, announced by Manila International Airport Authority general manager Ed Monreal.
Their office is working on the details and coordinating with international airlines to eliminate the airport terminal fee imposed by the previous management of Ninoy Aquino International Airport (NAIA) on OFWs last February 2015.
OFWs are paying the P550 airport terminal fee when they buy tickets online and can claim refund upon departure at the airport terminals, however some are busy while some are unaware therefore many fails to claim their refund.
Total collections of the airport terminal fee according to the article has reached billion pesos and half of amount remains unclaimed by OFWs.
Monreal said his office is ready to refund the fees to OFWs as long as they possess the E-ticket, boarding pass and passport they used even several years ago.
Source :
http://www.philstar.com/headlines/2016/11/29/1648495/ofws-exempted-airport-terminal-fee-starting-march